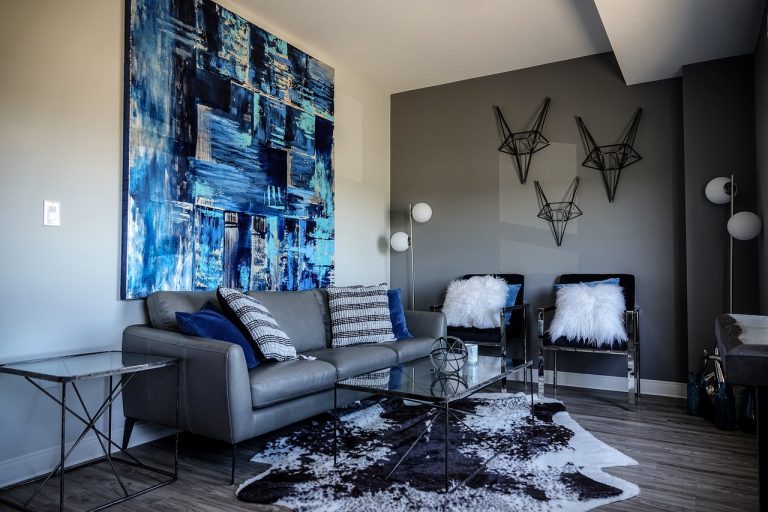 There are no hard and fast rules for the attractive display of artwork in your home. One reason for that is that it is YOUR home. There are certainly some general guidelines that have become accepted from an artistic standpoint, but the simple fact is, this is your home and your display of artwork, images, artifacts, and memorabilia.
One rule of thumb when hanging art on walls is to consider the edges of the wall space you intend to use. Edges are created by more than just adjoining walls. Doors and windows, for example, create visual borders to wall spaces. The furniture below artwork creates another border to consider, and the ceiling may be the only thing above the artwork, but there is another consideration to the height of any given space. Humans are typically a certain height, themselves, so the wall spaces they look at are centered not so much between the ceiling and any furniture below. They are vertically "centered" on the typical height of our eyes–about five feet above the floor.
Groups of items create the most interesting displays. Displays such as this are seen as a single entity, not a collection of individual items randomly grouped together. A large display, such as one over a couch, for example, should theoretically have a top "edge" roughly seven feet above the floor, and a bottom border about six inches higher than the back of your couch. The items in this collection can be grouped in any number of ways, but one artistic constant is this: Usually, the more tightly grouped your display is, the greater its impact and interest value will be.
In wall spaces between your new Agoura windows, for example, there are many possibilities. Agoura Sash & Door has provided over a quarter century of service in Los Angeles, Ventura, and Santa Barbara counties. We stand ready to meet your needs in many ways, with doors, windows, and even advice on decorating and design tips. For ideas and creative possibilities, come see our design showroom in Westlake Village.