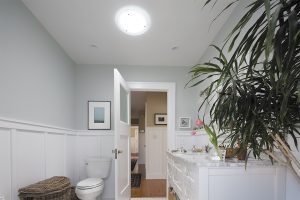 With the official start of fall comes less daylight hours, which can leave you feeling like you are living in the dark. Installing small skylights, also known as tubular daylighting devices (TTDs) can help to brighten up your house without turning on any lights. TTDs can be installed in almost any area of your house, including:
Foyer – since many foyers are designed without any windows, a TTD can bring in much-needed light to make your home seem more inviting. The added light can also be helpful when trying to pick the right colored jacket off of your coat rack.
Hallway – much like the foyer in your house, hallways can lack any type of natural light. Installing TTDs in the middle and end of long hallways can help to bring in necessary light while also helping tight spaces seem bigger.
Powder rooms – it is easy for powder rooms to feel claustrophobic, especially interior powder rooms with no windows. A skylight can be placed anywhere in a powder room, such as over the sink to help open up the space.
Showers – it can be difficult to get the lighting that you need in a shower, which can make the space feel cramped. A skylight can help you enjoy natural light early in the morning while making the shower space feel much larger.
Laundry room – many people try to avoid laundry rooms as much as possible since it means it is chore time. Lightening up the space with a TDD can help make doing laundry a little more pleasant for everyone.
Choosing the right home skylights does not have to be difficult. Contact Agoura Sash & Door in Westlake Village, California for help choosing the perfect skylight that will fit with the design of your Ventura County house.