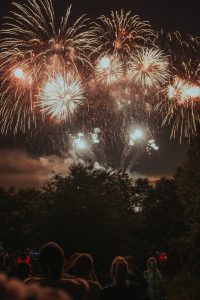 With summer just around the corner, you may be wondering what to do for 4th of July. The holiday is one of the most beloved occasions throughout the United States because it remembers the history of the country and the rights that we have as citizens. When you are not sure about your plans, try watching the fireworks in Ventura County.
The 38th Annual 4th of July Street Fair will feature a free parade at 10 AM, a wide range of crafts and six stages for a variety of entertainment throughout the day. After the day is complete and the sky darkens, you can watch the amazing fireworks show and enjoy time with friends and family admiring the artwork in the sky.
Watch the sky light up with beautiful colors. The Street Fair will have more than enough in the sky to keep you entertained for the evening and it will give you the opportunity to get out and celebrate. Stay tuned for additional events going on in the Ventura County area on the Agoura Sash & Door blog.