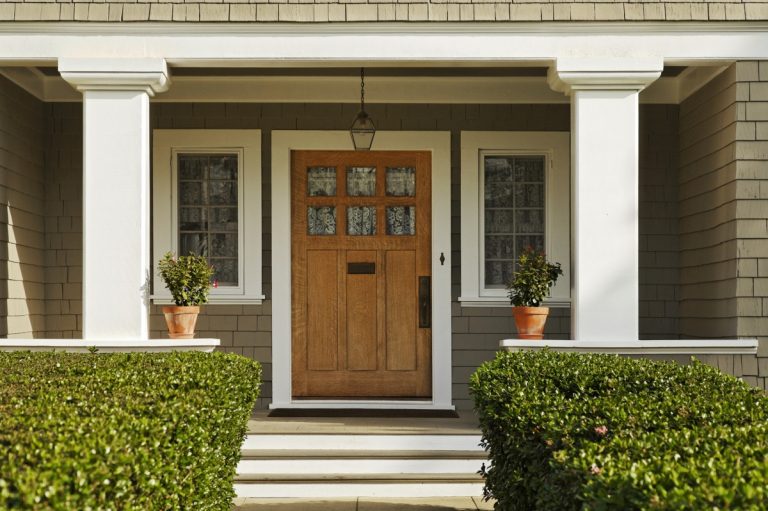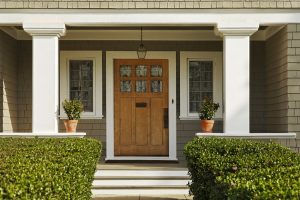 The front of your house is the first thing your company sees before they enter your home so why not impress them with a unique front door. The design options you can choose from can vary in price and energy efficiency so here is a list of different materials you can choose from for your front door.
A wooden door is a classic and welcoming option for your home. This type of door will look great with a patio and is one of the longer lasting materials. There is not a lot of maintenance needed for this material, which makes it a great option for families!
A steel door is a more energy efficient option because they will keep your home insulated. No need to worry about giving your home an odd futuristic look, steel doors can be painted any color you would like! And unlike wooden doors, cannot be damaged or warped from water. This type of door comes in different styles ranging from customary to modern and lasts a lifetime. Although it can get easily damaged by scratches, steel material for your door costs less than wood.
A fiberglass door is great for those who are looking for something more unique and groundbreaking. Fiberglass can also be painted in any color you would like and have a pattern that makes your door look as if it were made out of wood. These doors will lower the cost of cooling and heating your home because they are energy efficient and are extremely low maintenance. Unfortunately they are a bit pricier than the other two options.
Agoura Sash & Door in Westlake Village specialize in door design and offers contractors assistance to help you with your building projects. We work with several manufacturers to find you the right product at the right price. Contact us to get started today!